Welcome to Allespack Systems (P) Ltd.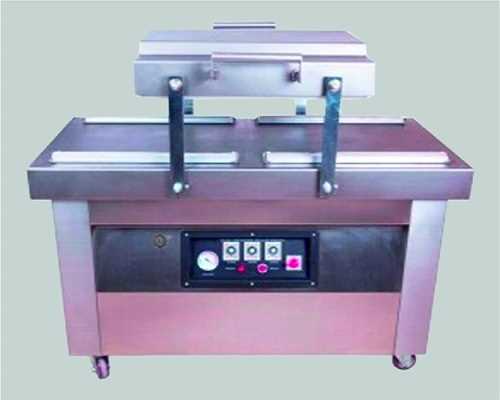 Double Chamber Vacuum Sealer - DZ-500/2SB
1. Double chambers vacuum packaging can finish the whole programs of vacuum extraction, gas flushing,sealing, cooling and exhaust automatically​
2. Gas flush consists of an inert gas such as Nitrogen, Carbon Dioxide, etc. Which is injected and removed to eliminate oxygen from the packet.
3. This technique is called MAP (Modified Atmosphere Packaging).
4. Most common application include Coffee, Snack Food, Meat, Poultry etc.
5. Increases shelf life, preserves food quality and prevents discoloration especially in Meat.
6. Uses 30mm wide paper or poly band.
MRP : 1,35,000 /-
( TAX + FREIGHT EXTRA )
---
SPECIFICATIONS

1
VOLTAGE
380v/50hz
2
HEATING POWER
1.5Kw
3
VACUUM PUMP CAPACITY
40m3/h
4
VACUUM PRESSURE
<1.33kpa
5
VACUUM CHAMBER VOL.(mm)
580x550x110
6
SEALING LENGTH (mm)
500x10
7
No. of HEAT STRIPS
4
8
DIMENSIONS
260x780x960
9
WEIGHT
220KG
A Leading Supplier of Packaging Machines
Need help? Talk to an Expert
+91-9868175404