Welcome to Allespack Systems (P) Ltd.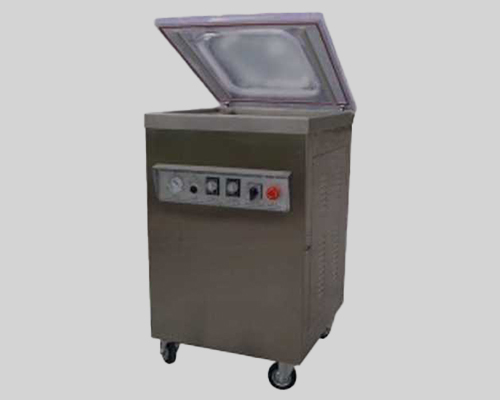 single Chamber Vacuum Packaging Machine - DZ-500/2E
1. Single chamber vaccum machines are economical and suitable for low to medium production​
2. Can finish the whole process of extraction, sealing,cooling and exhaust automatically
3. The product after packing can be prevented from oxidation, growing mould, insects or getting damp, this extending the shelf life
4. Useful for Packing Food, Meat, Sea Food, Electronic Products, Medical Products etc.
MRP : 60,000 /-
( TAX + FREIGHT EXTRA )
---
SPECIFICATIONS

1
VOLTAGE
220v/50hz
2
HEATING POWER
0.75Kv
3
VACUUM PUMP CAPACITY
20m3/h
4
VACUUM PRESSURE
<1.0Kpa
5
VACUUM CHAMBER VOL.(mm)
530x252x100
6
SEALING LENGTH (mm)
400x10
7
SEALING LENGTH (mm)
500x10
8
No. of HEAT STRIPS
2
9
DIMENSIONS
580x650x1010
10
WEIGHT
125KG
A Leading Supplier of Packaging Machines
Need help? Talk to an Expert
+91-9868175404